VOODOO RIDE – We ride for those who can't! (2014)
charity project for Wings for Life
The "Voodoo Ride" project was set up at the beginning of 2014 by Tanja and myself. I got the idea to use the movie as charity project when I was lying in the hospital and was hoping that everything will turn out well. A cerebral cavernoma, a blood vessel malformation in the brain was found during a routine check after my MTB crashes. In this time many thoughts were crossing my mind – Will I survive?- Was it the right decision? Can I live with a disability? I also wrote my will at this time just in case. Maybe it sounds all very overacted for you but I felt like that and no injury in my life so far made me think like that. I was so scared to be physically and mentally handicapped and not be able to live my life like before. In the end, everything turned out well for me and so I wanted to give something back to those who were not so lucky – like people in a wheelchair.
So I wanted to make a charity project for Wings for Life, a spinal research foundation,  with the background that a friend of mine is still sitting in a wheelchair and this cannot be it!
---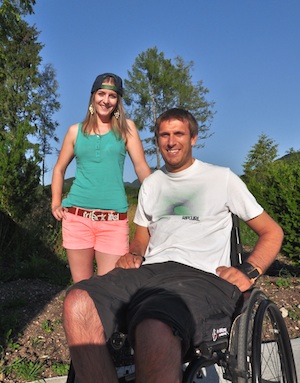 Interview with Wolfgang Illek:
Since Wolfgang's crash during his training for the Downhill World cup in Schladming 2004, he has been paralysed from the shoulders down. It was not a spectacular crash, but a quite common one "over the handlebars". But it was enough to put him in a wheelchair and to completely turn his life upside down.
"Right after the crash, there is nothing like before. I communicated merely with my eyes and after 13 months of hospital and rehabilitation, I could go back to my family and friends for the first time. Back home I realized that there were a lot of barriers and obstacles and it was hard for me to depend so much on the help of others. 'Please' and 'thank you' became part of my daily standard vocabulary." (Wolfgang Illek, Project Manager at "Wings for Life")
Despite this cruel blow of fate, Wolfgang doesn't let himself down. As an athlete, he is used to fighting his way through. He finished his studies, continues to exercise consequently and now works as project manager for "Wings For Life".
"I am very proud to be a part of "Wings For Life. This foundation for spinal cord research has the goal to find a cure for spinal cord injuries. In order to achieve that, we support the most promising research projects all over the world. The question is not whether effective treatments and cures will be found, but when they will be found. We have great support from the field of sports, for example from Sebastian Vettel and many more. But it cannot be enough – we have not yet reached our goal. We are happy about every support we can get and with Helene's and Tanja's "Voodoo Ride Project" you can see, that everyone is able to contribute a part. Small donations are important. And all the money goes 100% to the researchers. (Wolfgang Illek, Project Manager at "Wings for Life")
---
Background info:
The film was produced in Portugal / Sintra. I wrote the storybook, scouted the location, organized the other actors, got in contact with all the media and so many other things to make this project perfect. In the end, I was very happy.The movie turned out great (Thanks to Gianluca Ricceri, the filmer and cutter). The whole charity project got published in many online and printed magazines and was also showed in a cinema in Vienna and on an Austrian Sports TV channel.  We got great feedback and the one most important thing was also that we earned about 2500 Euros for Wings for Life with the Bike tombola. It doesn't sound that much but these days it's so hard to get financial help. And the other good thing has we also directed the attention to Wings for Life and people in a wheelchair.
I also want to say thanks to the sponsors, who helped us to finance this movie and so this project.Thanks to Tim from the Hayes Group (Manitou, Answer, Sun Ringle, Hayes) Merida, Erwin from Acros, Basti from Ion, Denise from Iriedaily, Mike from Maxxis and Axl from Shimano)
Also thanks to all the actors and voluntary background actors. Thanks to Birgit Rohatsch, the video maker Gianlucca Ricceri and the photographer Jorge Matreno.
For more information about the project "Voodoo Ride" please click here on the Voodoo Ride Facebook page.
---