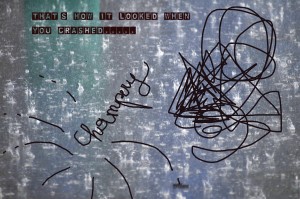 The weekend is over… I am soooo happy: the track was just a night mare – everywhere steep and the catch nets were just 50 cm high. So if you crashed you didn't even touch them. You just flew over it.. Incredible that this was allowed. I struggled all the weekend with myself if I should compete or not. There were two section which I didn't do well. But at the end I raced and ended up 20. I am all right with that place. I am very proud that I compete at the end a lot of women didn't because of different reasons. I heard that the race organiser choosed exactly that weekend because it hasn't rained on that weekend for ten years.. Hmm but not 2007 it rained every afternoon cats and dogs…. Everytime when the 4x training started or the race the track became a river. The 4X was so exicting to watch because you never knew who was going to make the turns without slidding away. Jill Kintner won Seyoux Rachel 2nd and Fionn Griffiths came 3rd. In the men class won Brian Lopes, Michal Prokop 2nd and Filip Polc 3rd.
On Saturday evening it didn't stop to rain. I was thinking about the next day and about the race track. How should I make it uiuiuiuiui. But it dried very quickly and the girls and most of the guys had the luck to race on a pretty dry track. Just the last who made a very good qualification time had though luck.
Matti Lehikoinen won , Steve Peat came 2nd and Sam Hill 3rd. BUt SAM H. was the last rider and had the worst conditions of all riders. Sam was stealing Matti the show with the impressing fact that he was just 1,5 second behind him in the poor of rain. Congratulations to Marielle Saner(SUI) 2nd Emmeline Ragot and Sabrina Jonnier came 3rd.
My next stop is Wagrain the bike park opening. And after that I am flying to Canada for the 3rd World cup.
See you soon LENE